Sri Mani Dravid Sastrigal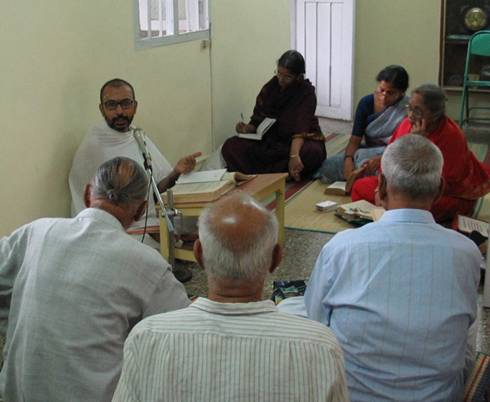 Sri Mani Dravid Sastrigal is the maternal grandson of the very widely known Sri Rajeswara Sastrigal of Varanasi;a pundit of great repute and Asthana Vidwan of King of Kasi.His Guru was the Pranthiangara Sri S Subramania Sastrigal, a Sastraratnakara, Director of the Mahesh Research Institute, Varanasi and Editor of many standard Advaitic works.
Sri Mani Dravid Sastrigal has done a thorough study of Vyakarana, Poorva and Uttara Mimamsa as well as Nyaya.He has also studied under Siruvamani Sri R Krishnamurthy Sastrigal,Vedanta Professor of Madras Sanskrit College Chennai. He has obtained Doctorate in Indian Philosophy from Benares Hindu University.
He has been awarded Advaitasiddhiratnakara, by Sringeri Mutt, Veda Vyasa Samman instituted by Central Govt., besides special recognition by Kanchi Mutt for his erudite scholarship.
He is presently employed at Madras Sanskrit College as Professor of Mimamsa and is a regular participant in all Vidwat Sadas for Vakyarthas convened by all Mutts (Kamakoti, Sringeri and Udupi)
His lectures in Tamil at Chennai are digitally recorded and are available in CD form as per list attached; interested persons can get in touch with sundararaman_k@dataone.in . The CDs are not priced; however recipients are encouraged to give some donations to Mullaivasal Heritage Trust (a trust with IT exemption under 80G available)
Click here to get a list of lectures by Sri Mani Dravid Sastrigal.
Sample of a lecture in mp3 format
Click here for a summary of his lectures